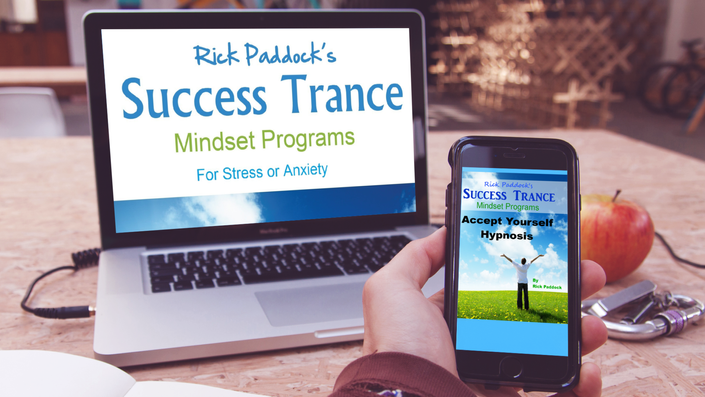 Release Stress & Anxiety Success Kit
A Mindset Success Program
Release Stress & Anxiety -Feel Better - Sleep Well - Be Healthy!
Four (4) Self-Hypnosis MP3s by Board Certified Hypnotist Rick Paddock
The solution to a more peaceful life, day and night, is all within the power of you own mind!

These solution-focused hypnosis audios can dramatically and permanently improve and enhance your life at home or work, alone or with others, day or night.
With hypnosis, you will learn how to change your mind, and your mind will change your life.

These four powerfully effective self-hypnosis audios, recorded by Board Certified Hypnotherapist Rick Paddock, quickly, effectively and efficiently modify your mindsets, behaviors and habits to those that improve your overall sense of well-being, confidence and self-acceptance, all while allowing you to relax naturally, sleep soundly and feel better about yourself.

Most of your neurological and physiological responses and reactions are simply learned behaviors. These four separate & powerful session programs employ specific motivational & educational components that reprogram those habits, on a neurological, psychological and/or physiological level, into healthy, motivating, desirable ones.


Your four audios include our four most powerful sessions, addressing and reprogramming your subconscious in the following ways:

Audio #1: Overcome Stress & Anxiety - It's not your fault that you are feeling anxious, stressed, feeling overwhelmed or out-of-control – your subconscious mind has been working against you!
How can a relaxed, calm mindset and feeling be so difficult to experience when you desire it so strongly?

You may be fighting an uphill battle – against yourself! This powerful Self-Hypnosis Audio , recorded by Board Certified Hypnotist Rick Paddock, makes adjustments to the subconscious programming in your mind that has been preventing you from finding that relaxed, calm, in-control place.

You see, we all have two parts to our mind, our conscious and subconscious.
Our conscious mind is what we are aware of at any given moment, including our thoughts and desires for peace, relaxation and comfort. Our subconscious is much more powerful, always running in the background, causing us to feel and think in ways that have become habitual to us. Often our conscious desires and wishes don't match up with the habits stored in our subconscious. And when the conscious mind and subconscious mind disagree, the subconscious always wins. However, when the subconscious supports your conscious desires and wishes to feel calm & relaxed you unleash the power of your body and mind to feel calm and relaxed, enabling the peaceful, relaxed mind and body to be yours easily and naturally!
Total audio time is approximately 26 minutes
Audio #2: Accept Yourself - Accept Yourself and feel great with hypnosis!
With hypnosis, you will learn how to change your mind, and your mind can change your body.

With this powerfully effective self-hypnosis audio, you will begin to .....

"...accept yourself for what you are. You know that even your best is good enough. For the most important thing in life is you.

And in this wonderful state of hypnosis you can access all the wonderful inner resources that you naturally have.

And knowing not only that you're good enough, you've always been more than good enough.

You choose to love yourself and you choose to accept yourself for the unique human being that you are, and you now trust yourself.

You trust in your powerful, creative subconscious mind. Knowing now that you are good enough. You've always been more than that.

But finally... you're beginning to accept this idea ... as one of your own..."

Total audio time is approximately 24 minutes in length.
Audio #3: Confident & Successful - Be Confident & Successful and feel great with hypnosis!
With hypnosis, you will learn how to change your mind, and your mind can change your body.

With this powerfully effective self-hypnosis audio, you will begin to ...

"... notice that the environment is just right for your success. You are wonderfully relaxed now, as you imagine your past success. Notice now how you can see here, or feel, your past success... and what it truly means to you. In this relaxed, calm, confident state… & you feel so very natural there. It feels so right, feels wonderful, because it is where you belong. You have chosen to be in this relaxed, confident, successful state… and you deserve this and belong here...."

Total audio time is approximately 26 minutes in length.
Audio #4: Sleep Now - Beat insomnia, sleep naturally... and feel great with hypnosis!

With hypnosis, you will learn how to change your mind, and your mind can change your body.

With this powerfully effective "Sleep Paradox" self-hypnosis audio, recorded by Board Certified Hypnotist Rick Paddock your subconscious mind will be lead through a journey of messages designed to reprogram your mental commentary that is keeping you awake.

This is achieved through a binaural beat / binaural message implementation. The audio will start with you hearing the following message....

"Try to stay awake
Do not try to go to sleep
Try as hard as you can
Not to FAAAALLLLLL asleep
(Pause-)
With every breath you take,
In and out,
Every beat of your heart,
Remember
Do not fall asleep..."

This message fades to one ear, while a new message starts in the other ear, overlapping the first...

"Allow yourself to imagine,
To see and even feel,
That you are in a wonderfully peaceful place,
A special place where everything works out perfectly for you
Exactly as it is supposed to be for you
Imagine yourself noticing everything around you that is wonderful, peaceful, comforting and relaxing,

The air is the perfect temperature,
Not too warm, not too cold, but just exactly how you like it.
You also notice yourself feeling much more relaxed as you breath in this comforting air,
Almost as if the air is filled with tiny sleep inducing molecules
Making you feel very drowsy, very sleepy..."

This paradoxical, confusing crossover self-hypnosis audio will reprogram your subconscious to sleep easily and naturally...
Total Audio time is approximately 30:15.
Your Instructor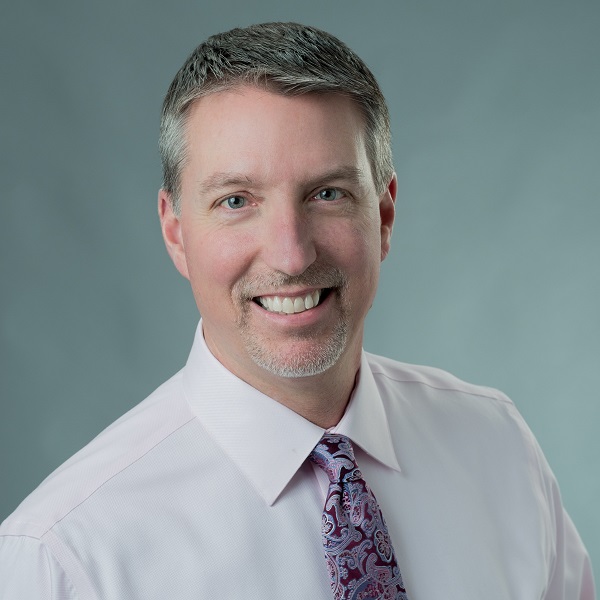 As an instructor, hypnotist and podcaster, Rick loves to teach others about the expansive powers of the human mind. Rick is an Instructor for the International Certification Board of Clinical Hypnotherapists and the founder and director of the MidAmerica Hypnosis & Mindset Training Center, as well as the Milwaukee Hypnosis & Wellness Center. He is the author and producer of many successful personal improvement products enjoyed by thousands around the world, including three books, and over fifty audio & video programs. He is a sought-after speaker, and has presented at HypnoThoughts Live, the 2018 Virtual Hypnosis Convention and HypnoBizNY. He is also the host and producer of the Mind Flipping podcast, in which he interviews world-class experts in hypnosis, NLP, meditation, neuroscience, and coaching.
Course Curriculum
Release Stress & Anxiety Success Kit
Available in days
days after you enroll
Frequently Asked Questions
When does the course start and finish?
The course starts now and never ends! It is a completely self-paced online course - you decide when you start and when you finish.
How long do I have access to the course?
After enrolling, you have unlimited access to this course for as long as you're an enrolled student - across any and all devices you own.
What if I am unhappy with the course?
We would never want you to be unhappy! If you are unsatisfied with your purchase, contact us in the first 30 days and we will give you a full refund.